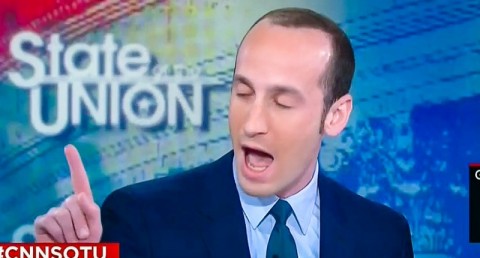 My son likes to think he's a lawyer and, unlike many children who ask the same question over and over will often ask the same question multiple times but with different angles. At some point, usually pretty early (I like to think I'm a smart guy), I realize he's doing this, and I shift into giving a response that I've found works well. I can't claim credit for it, I read it on a parenting blog.
In short, when a child persists with the same question, simply respond, "Asked and Answered." It quickly shuts down the repeated questions because you're giving a repeated answer instead of trying to craft a new response to a repeated query.
This past weekend, White House Senior Advisor Stephen Miller was asked, time and again, about claims of rampant voter fraud. But it wasn't a case of being asked the same question multiple times, but simply asking for any evidence, much less proof, every time he made a new claim. And every time he made a new (and often different) claim, and was pressed for evidence, he simply responded
Asked and Answered
As if he were dealing with a petulant child. Or, more accurately, as if he was treating the media like a petulant child.
Because he was.
Welcome to the new Ministry of Propaganda. They seem to be finding their legs.